Crafted on the Wild Cornish Coast
Founded by self-taught Master Distiller, Tarquin Leadbetter, it all started with a little pot-still on a kitchen stove, the rest as they say is history.
Tarquin's Beginning
Tarquin's Gin is the story of our founder, Tarquin Leadbetter and his quest to craft a world beating gin on The Wild Cornish Coast.
At just 23 years old, Tarquin, a classically trained chef from the Cordon Bleu in Paris, somehow finds himself sat behind a grey desk in the city of London. He quickly realises this environment is at odds to what really makes him tick and he serves his notice. He starts to scheme. One idea surfaces, then another, then more. Each building in ambition and each driven by the same guiding principle - the
passion to create.
He hones his thinking. One idea takes a hold and quickly becomes an all-encompassing vision. Tarquin, supported by the business acumen and drive of his sister Athene, sets his sights on establishing the first Cornish distillery for over 100 years. Armed with a 0.7 ltr copper pot still, a suitcase stuffed with botanicals weird and wonderful, and a prized surfboard, Tarquin makes his return to the West Country and begins his adventure to create what will later be awarded the World's Best Gin.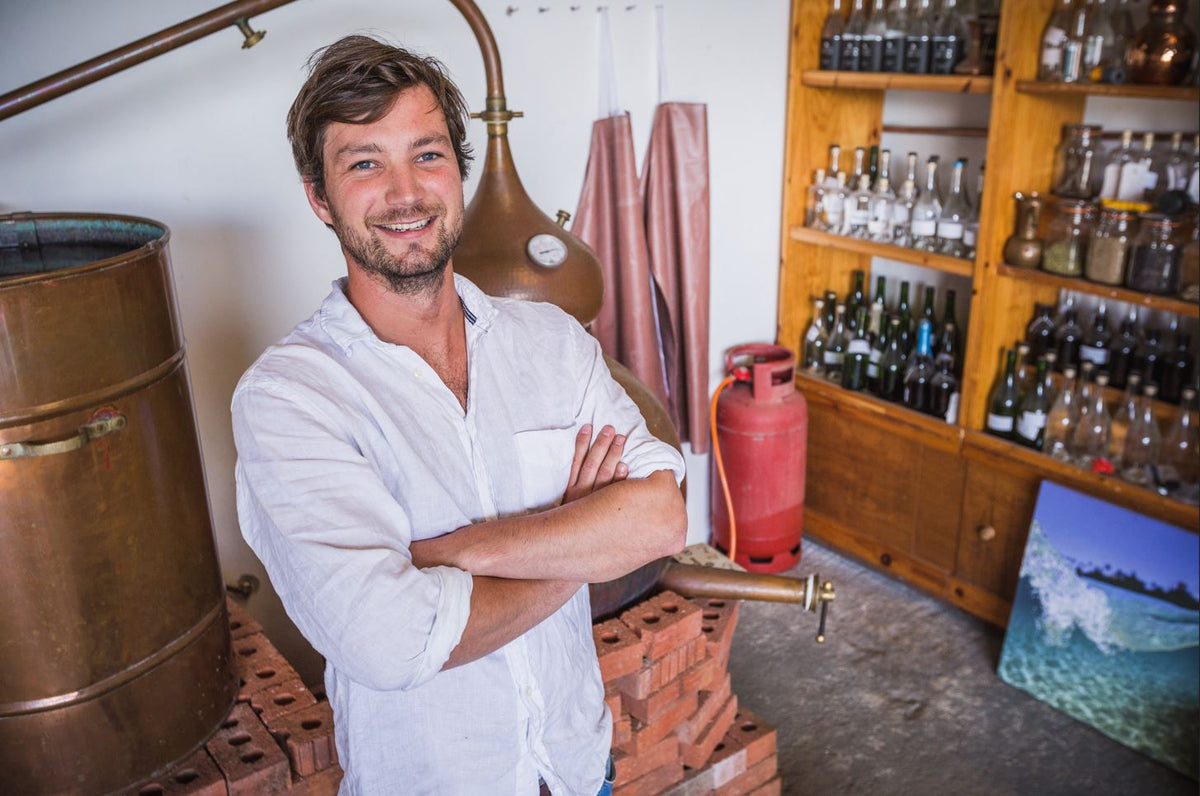 Tarquin's Learnings
Self-taught on his kitchen stove, Tarquin perfects his first gin
Over the course of the next 12 months, Tarquin tirelessly concocts hundreds of experiments. A lot of gin is drunk. A lot of smiles had. Some grimaces. Some headaches. But then he hits upon the winner. From his bounty of botanicals, 12 are finally selected – a concoction of roots, spices, nuts, seeds, fruits and flowers sourced from the far corners of the world as well as from his back garden. The precise recipe is finalized and safely documented. It's then put under lock and key and told to no one else. Tarquin's gin is ready – now to time to start sharing it with the world.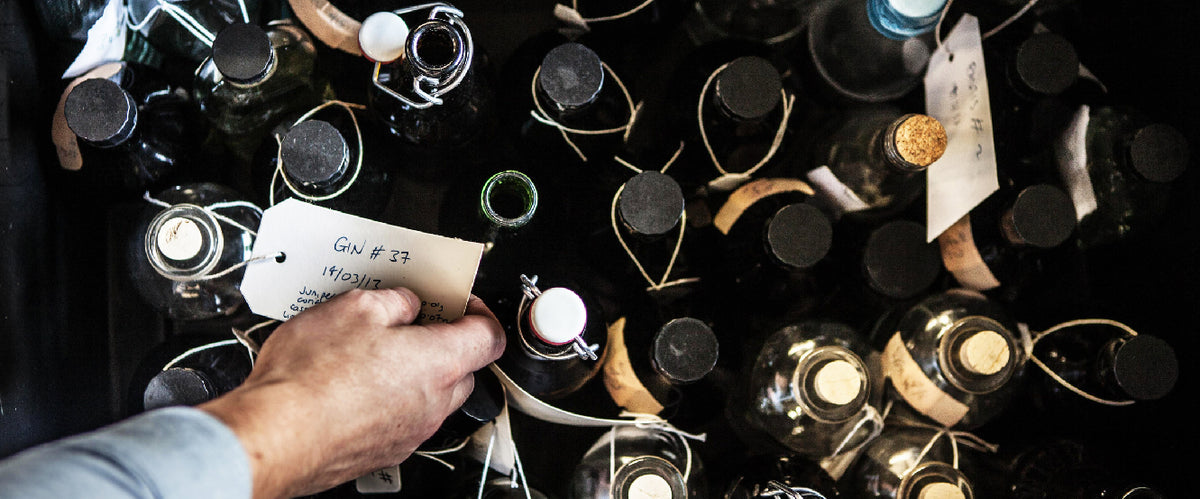 TAMARA JOINS THE TEAM
The Gin is flowing freely and an up-scaling is required.
A second-hand Portuguese alembic copper pot still is bought. It's named Tamara – Goddess of the river Tamar, the border between Devon and Cornwall. It's only 250 litres. This truly is small-batch production. Resources are limited and so techniques and processes have to adapt accordingly. Tarquin already has a large gas ring used to heat his paella pan and so that becomes the heat source. A direct naked flame and bread dough to seal the top of the pot stills – this is as traditional and analogue as distilling gets. There are no machines, no automation, no out-sourcing. Every stage of the process is judged by eye, touch and taste. This approach to distilling is incredibly labour intensive but it means that the authenticity and integrity of the final result is ensured. This is Tarquin's core ethos.
The gin starts to flow. The first batch is distilled then filled, labelled, waxed, stamped and signed all by hand. On 30th July 2013, the first bottle is sold to the Gurnard Head Hotel in St. Ives, Cornwall – Southwestern Distillery is now officially trading.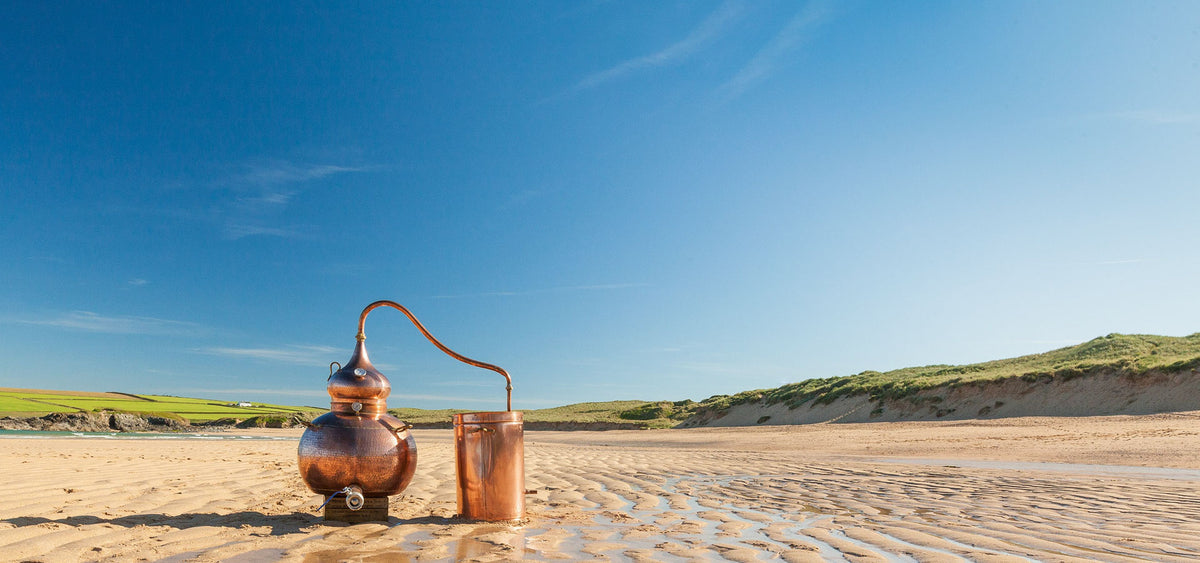 Gaining recognition
It's not long before Tarquin is once again back into full creative experimentation mode.
Two months after the sale of this first bottle comes the release of his second product to strengthen and significantly diversify the Southwestern portfolio and further buck convention. A product that is as unique as it is bold as it is brave – Tarquin crafts the first ever Pastis to be commercially distilled in the UK.  The brilliantly named 'Cornish Pastis'.
On the eve of Tarquin's first anniversary he receives news. News that places Southwestern Distillery firmly on the craft-spirits map. First comes a Gold medal for the Pastis from the 2014 San Francisco World Spirits Awards. The only Pastis in the world to win Gold that year. Next, it's the Gin's turn. It claims its own Gold medal from the 2014 IWSC awards. One of only six Gold medals to be awarded to all international gins.
Over the ensuing years, up to the present day see even more Gold and double Gold medals awarded for these two original labels. All the while the Southwestern tribe continues to grow and strengthen; a second – Senara, and then a third – Tressa, copper pot stills are added to the mix to keep up with the ever-expanding demand.
"World's Best Gin"
San Francisco World Spirits Competition 2017
Then Tarquin adds the most prized feather to his already fairly illustrious cap. The third addition to the permanent range, the brilliantly bold Tarquin's "The SeaDog' Navy Strength Gin, clocking in at a punchy 57% abv, is crowned the "World's Best Gin" at the 2017 San Francisco World Spirits Competition from a contesting using age pool of over 260 individual gins. A fairly remarkable achievement for a self-taught distiller, using old techniques in a converted cow shed perched on a windswept hilltop overlooking the wild Cornish Coast.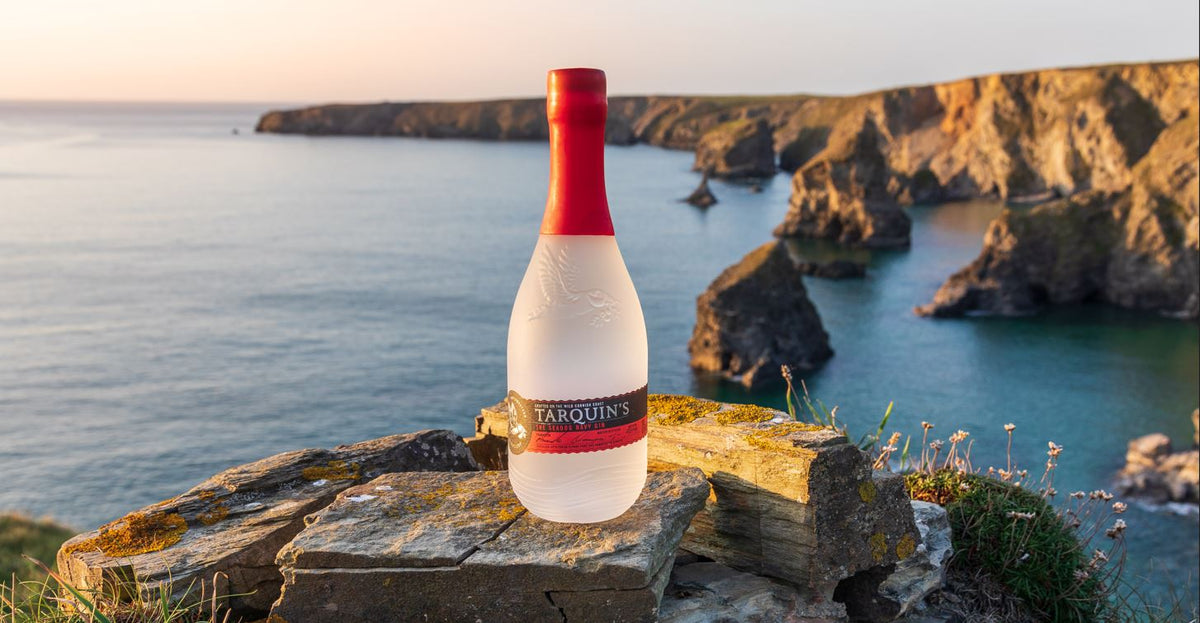 Keep Experimenting
Cut to the present day and yet more exciting developments.
In the subsequent years, Tarquin would go on to win numerous accolades in Cornwall and across the globe for his gin. Today, Tarquin's Cornish Dry Gin is sold in over 30 countries, with the same recipe Tarquin diligently crafted on a mini copper pot still over 10 years ago.
The addition of a forth, state-of-the-art 500 litre copper still – Ferrara – brings yet more opportunities and scope for continued growth. This one-of-a-kind modern still now stands side by side with the three original pot stills. A fusion of the old and the new. The traditional and the progressive.
The Tarquin's Gin collection has expanded to incorporate a variety of exotic and locally foraged botanicals to suit all preferences and palates. With Tarquin continuing to innovate and push boundaries, one thing is for sure – plenty more gin will be enjoyed!
Yet, true to his original vision Tarquin's remains resolute in his approach towards authenticity and integrity. His core ethos remains strong in all that's attempted and achieved.
It is one thing to have a vision. And quite another to bring this vision to life. This is the story of Tarquin's Cornish Gin. Hand-crafted Cornish spirits – done just a little bit differently.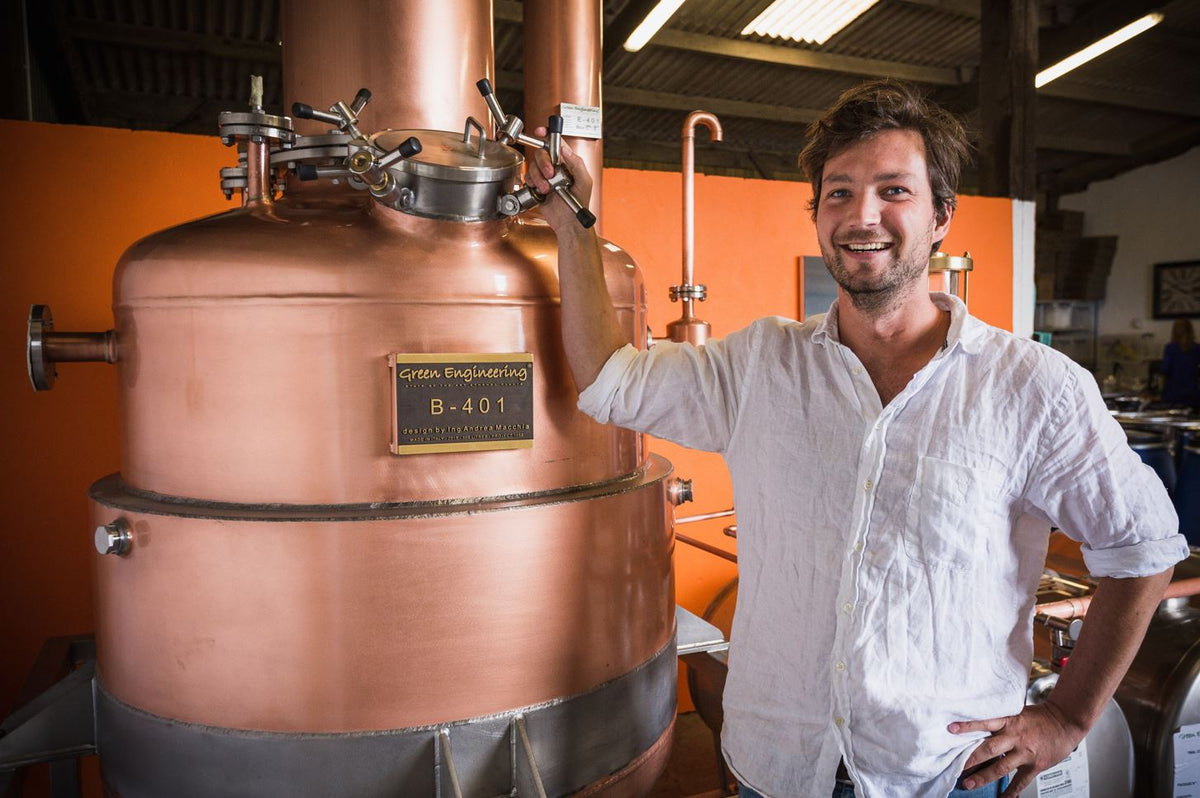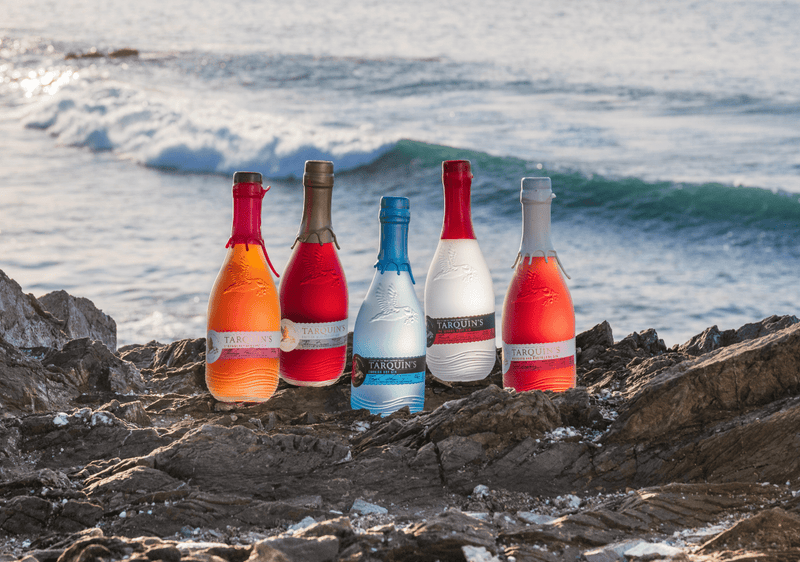 Shop Our Products
From old favourites like Tarquin's original Cornish Dry Gin to beautifully-balanced fruit led gins alongside limited-edition small-batch gins.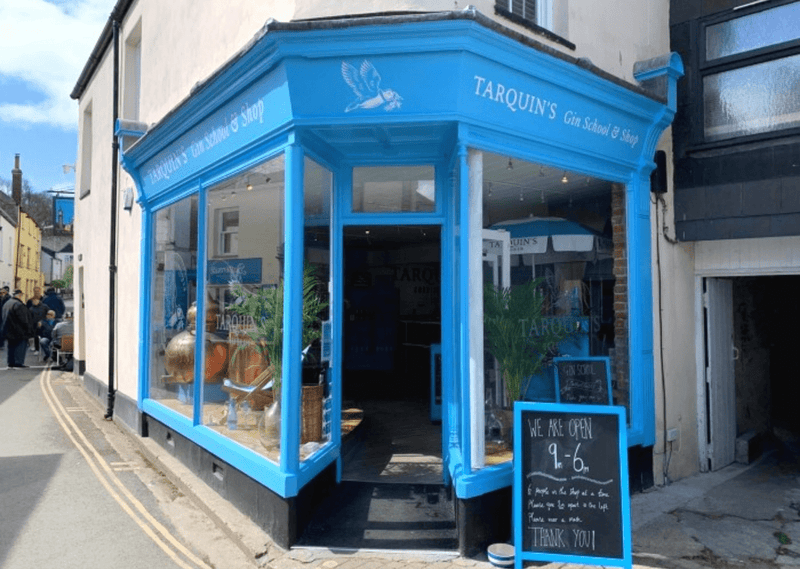 Our Stores
With our ever expanding range of products, tastings opportunities and our new gin schools, a visit to us is a must for any Tarquin's gin fan!