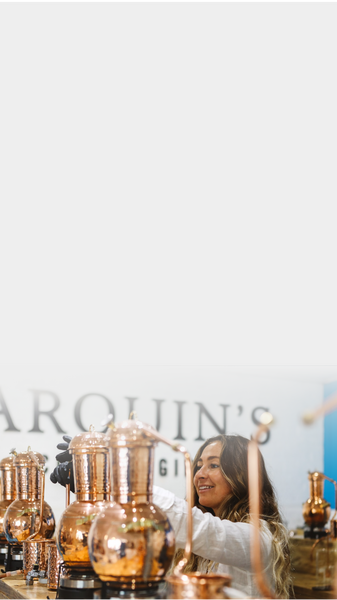 Distillery Tours
Calling all Tarquin's Cornish Gin fans - our humble Distillery, nestled on a windswept hilltop overlooking the Wild Cornish Coast is now open for you all to visit…
Ripple effect on bottom of hero banners
The Tarquin's Cornish Gin Experience
Join us on the ultimate Cornish Gin behind the scenes experience as we guide you around Tarquin's HQ.
Tarquin's Distillery Tour has been awarded the prestigious 2022 Travellers' Choice Best
of the Best Award, putting our distillery tour in the top 1% of all attractions
worldwide!
THE TOUR INCLUDES:
Welcome Tarquin's Dry & Tonic
Enjoy our original Tarquin's Cornish Gin (25ml) perfect serve.
Introduction to the History of Tarquin's Gin
Our conception, ethos and growth.
Botanical Masterclass
Touch and smell the building blocks of our gin.
Walking Tour of the Distillery
Meet our copper stills and see where the Cornish magic happens.
Complimentary Tutored Tasting of the core 4 gins
Perfectly paired with a mixer.
Designated Drivers will get a Tarquin's Cornish Dry 5cl Mini Bottle to enjoy at home.
ADDITIONAL OPTIONAL EXPERIENCES:
WAX your own Bottle!
A special Distillery Exclusive
Take home your very own 'one-of-a-kind' personal bottle.
Become part of the Tarquin's Team
and experience the iconic waxing process first-hand.
Only available in our flagship Tarquin's Cornish Dry Gin
(70cl – 42% abv).
TOUR DATES AND TIMES:
Weds/ Thurs/ Friday: 5pm – 6.30pm
Saturdays: 11am – 12:30pm | 1.30pm-3pm | 4pm – 5.30pm
Sundays: 11am – 12:30pm | 1.30pm – 3pm | 4pm – 5.30pm
(Times are subject to change. Please select a date to find available times)
What you'll experience
There's nothing that we love more than introducing both old and new-found friends to our four leading Copper Ladies; Tamara, Senara, Ferrara
and Tressa.
We'll tell you the inspiring story of how we first began; educate you about the unique botanicals we use and the particular characteristics they each bring to the mix; explain the special processes behind our production; and finally take you on a delicious tasting flight through our core gin range.
Total Tour Time 90 mins. PRICE PER PERSON £18.
Over 18's only. Please get in touch if you have any access requirements. A soft drink option will be made available on arrival for those not drinking.
Important!
First and foremost we'd like to stress the importance we place on responsible drinking. Samples will be poured in moderation - to be enjoyed and savoured. Therefore, if you're making your own way to and from Distillery, please ensure that you have a designated driver organised. Thank you for respecting this.

Please note:
We are not able to accommodate children, babies or canines.
If you have additional requirements such as the need for wheelchair access, please email us in advance tours@southwesterndistillery.com
Address (please use full address for Sat Nav)
Southwestern Distillery,
Higher Trevibban Farm,
Wadebridge, PL27 7SH
NB/ Tours will start from our Visitor's Centre (Unit 6) - as you turn in to the farm complex from the main road, head straight down to the buildings directly in front of you. This is where you'll be introduced to our Tarquin's Team and meet the other guests on your tour.
Due to limited onsite facilities, try and avoid arriving more than 15 minutes early.

Parking
Please kindly park in front of Unit 6 or Unit 11.
We share the farm with a number of other industries, so please try to park within our allotted spaces. We're all about keeping the best neighbourly relations.
Local Taxi Companies
Why not leave the car at home and let someone else play designated driver. Then everyone can safely have a drink and we have no worries!
We recommend
St.Columb Cars 01637 226621 ST.COLUMB
Newquay Surf Cabs 07305 466905. NEWQUAY
A2B Taxis Newquay 01637 877777. NEWQUAY
123 Taxis. 01637 851234. NEWQUAY
1011 Taxis. 01637 871011. NEWQUAY
Wadebridge Taxis. 01208 812725. WADEBRIDGE
Midas Taxis. 01208 812345. WADEBRIDGE
Petroc Cabs. 07814342398. PADSTOW
PHD Taxis. 07494 073111. PADSTOW
Parnells Taxis Ltd. 01208 75000. BODMIN
Frequently Asked Questions
It is £18 per person for the tours – Click here to select your date and time.
Yes you can! You can buy a Tour Voucher (to be redeemed by the recipient) as an option on the booking system. You don't have to select a specific time and date - this can be selected once redeemed with the reference number on the voucher they will receive via email.
There are a number of great hotels in Padstow and Wadebridge which are each within 20 minute drive of our distillery.
Unfortunately we cannot allow guests to park overnight as we are located on a working farm.
St.Columb Cars 01637 226621 ST.COLUMB Newquay Surf Cabs 07305 466905. NEWQUAY A2B Taxis Newquay 01637 877777. NEWQUAY 123 Taxis. 01637 851234. NEWQUAY 1011 Taxis. 01637 871011. NEWQUAY Wadebridge Taxis. 01208 812725. WADEBRIDGE Midas Taxis. 01208 812345. WADEBRIDGE Petroc Cabs. 07814342398. PADSTOW PHD Taxis. 07494 073111. PADSTOW Parnells Taxis Ltd. 01208 75000. BODMIN
If you need to change your tour time or date please visit the 'Manage My Booking' link in your booking confirmation email. If you have further issues, email us at tours@southwesterndistillery.com
Unfortunately at this time we're too busy making gin at the distillery to sell direct. However, we have shops across Cornwall which stock our fantastic selection of gins and rums. Check our store locations and opening times here.
Unfortunately we can't accommodate children or animals at the distillery due to licensing and health and safety requirements. This includes babies and young children.
Yes, we can issue refunds for groups of 4 or less, however, this must be done with at least a week's notice. For larger groups, we can arrange for your tickets to be transferred - so please let us know an alternative date and we will try to accommodate your request as best we can.
Sorry, as a general rule we don't yet privately hire our facilities. However, please drop us a line and we can make a judgement call based on availability and other factors. Maximum group number remains 12 people.
No, we don't serve food at the distillery. However, Padstow is just down the road and has a number of fantastic options.
Unfortunately due to the size of our facilities and our license we can only host a maximum of 12 people on a tour, we hope you can find another date which suits you.
Yes but only if you're not intending to drink, owing to The Highway Code (rule 68) you would not be able to cycle after this experience. We would recommend booking a local taxi company.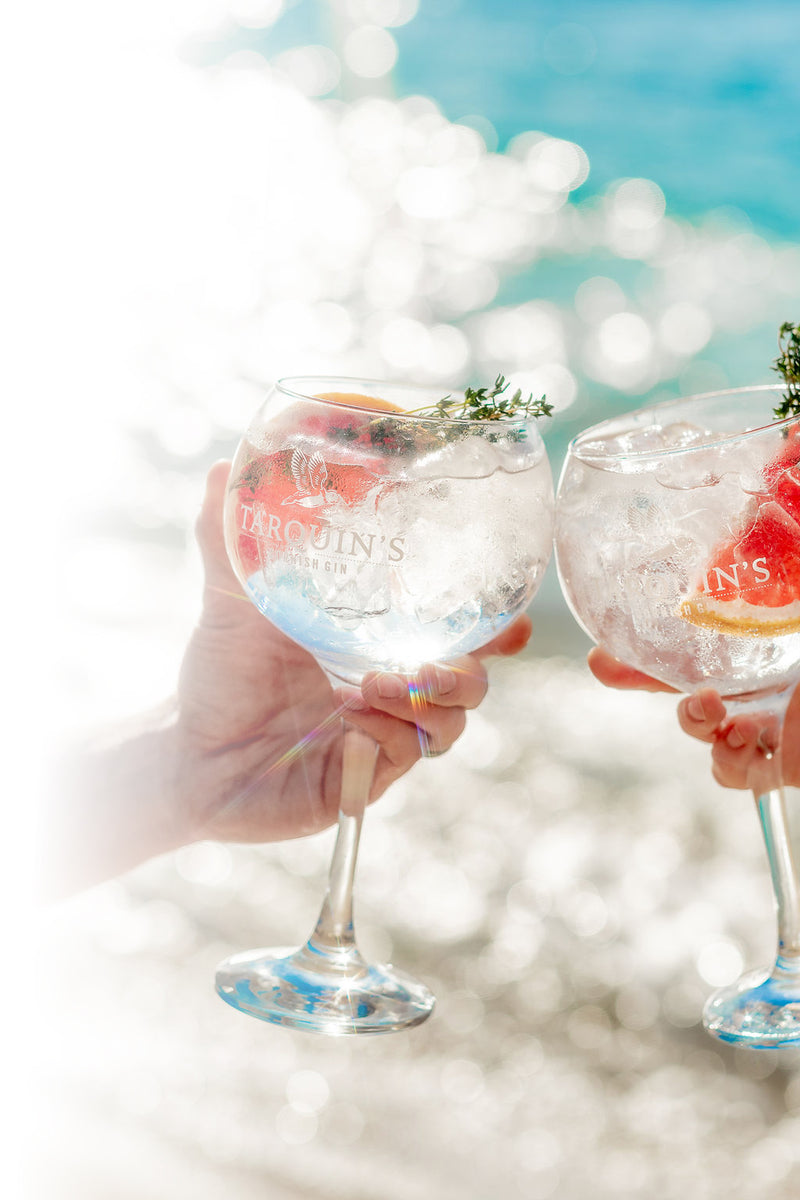 Don't Miss a Drop
Subscribe To Our Newsletter
San Francisco World Spirits Competition Double Gold 2022

San Francisco World Spirits Competition Gold 2022

London Spirits Competition Gold 2022

International Wine and Spirits Compeitition Gold 2022

San Francisco 2017 Double Gold

'World's Best Gin' San Francisco World's Spirits Competition 2017

San Francisco World Spirits Competition Gold 2016

San Francisco World Spirits Competition Double Gold 2016